spikedluv
Our Second Annual Shelter Extravaganza!!! will be open for one more week, through next Wednesday, May 15, so share some Shelter love if you haven't already!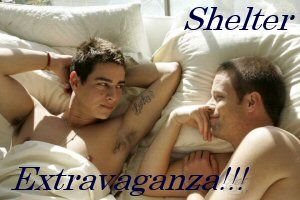 There's still time to post some of your favorite things about Shelter (the movie and the fandom) here at the
Favorites Post
and to add a drabble to our
Drabble Tree
.
You can also still submit prompts to the
prompt post
and create fanfic or fanart based on those prompts. (When you post, just make sure to note in your header that the story/artwork/vid/fanmix/etc is written for the Extravaganza!!! and include the prompt you wrote for. If you tag your own entries, please include the !shelter extravaganza tag.)
Please, join us, and spread the love. *g*